Aluminum foil disc sealing
Manual Induction Sealing Machine
What is induction cap sealing?
The application of varying safe magnetic field to produce enough heat in a thin layer of aluminum foil disc so as to seal the neck of a plastic or glass made container.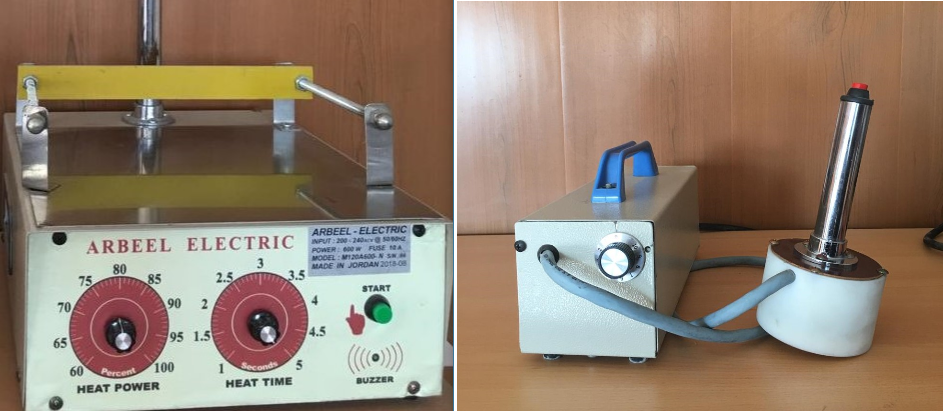 Manual Induction sealing machine is an off-line manually operated sealer equipped with two setting knobs one for power and other for time, a regulating electronic circuitry adjusts the power against any change of ambient temperature.
An (Model M95A550) can seal foil of 95 mm and down to 10 mm. however the (Model M45A700) can seal smaller foil diameters as small as 30 mm faster than (M95A550).
What Makes M95A550 Different Than Others?
Equipped with a buzzer sound deriving its power directly from induction current, to give a true validity seal process complete.
Perfect air cooling system including the induction coil.
The coul core is of ferrite type than concentrates the field toward the foil.
Due to the above, seal time can be as low as one second with no rest time in between, and number of seals could reach up to 800/hour limited by operators speed and container type.
How Does It Operates?
Power source 50/60HZ 220V 
Adjust the cap to be at the center of induction head.
Adjust the height of head until a 4-6mm clearance exists between cap and head.
Apply try and error to set time and power of optimum results.
press start, wait until buzzer sound stop, put another container and repeat.