3PH SOLAR PUMPING INVERTER (SOLARBEEL-G2)
off-grid pumping inverter
3Phase Solar Pumping Inverter
What is off-grid solar pumping inverter?
The inverter manages power flow by controlling two types of power, DC input produced from solar panels converts it to AC output that servers our needs.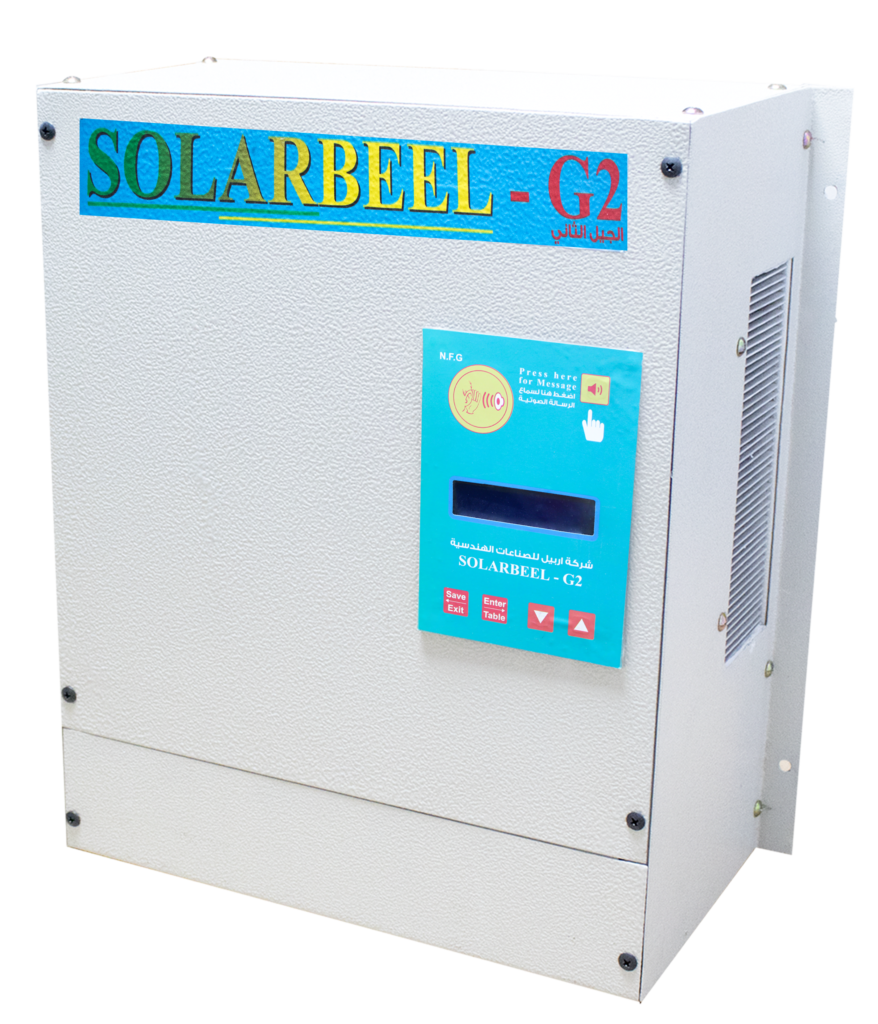 Based on accumulated expertise since 2009, arbeel electric launched the second generation of water pump inverters running on solar energy, It comprises all the requirements of such devices making us the pioneers and far away from what is available in the international markets.
The key features are:
Extracting the greatest energy found in the solar cells.
Integrated protection system for both the pump and the inverter.
Specially designed to run in hot and dusty weathers.
Durability, High efficiency and a two-year real manufacturing warranty.
Capability of maintenance and constant availability of parts.
Correct and realistic results of the potential practical performance.
Possibility of connecting the inverter to the electrical grid when available.
The characteristics of performance:
The micro controller executes a multi phase program to harvest the highest energy in the entire solar cells.
The pump control system consists of three stages: MPPT, PID, and pulse by pulse detriment which is the only way to secure the stability of some of the stubborn pumps.
A display screen and programming through which necessary pump data can be programmed, ampere/kilowatt, kilowatt/hour, frequency, and running indicators. It also shows faults if exists, with date and time of occurring as they are stored in the devices memory.
Multi-Lingual audio massage system (including Arabic) to facilitate communication with the simple peasant to detect and correct any defects like contact or cut in the pump wires. The device will activate audio messages showing the fault and how it can be fixed.
It contains an electric filter that prolongs the assumed age of the coils and boxes of the submerged pumps.
The device is capable of detecting the reduction of water level in the well without the need to 'water guard' through mathematical equation.
Detection of any decrease in the solar panels or the existence of fault in the returnable water valve.
A special design allowing the inverter to work on entrance voltages reaching 820 DC to treat voltage decrease resulting from the use of deep pumps filters (Sire-Wave Filters). These filters are in dispensable for wells deeper than 130 meters.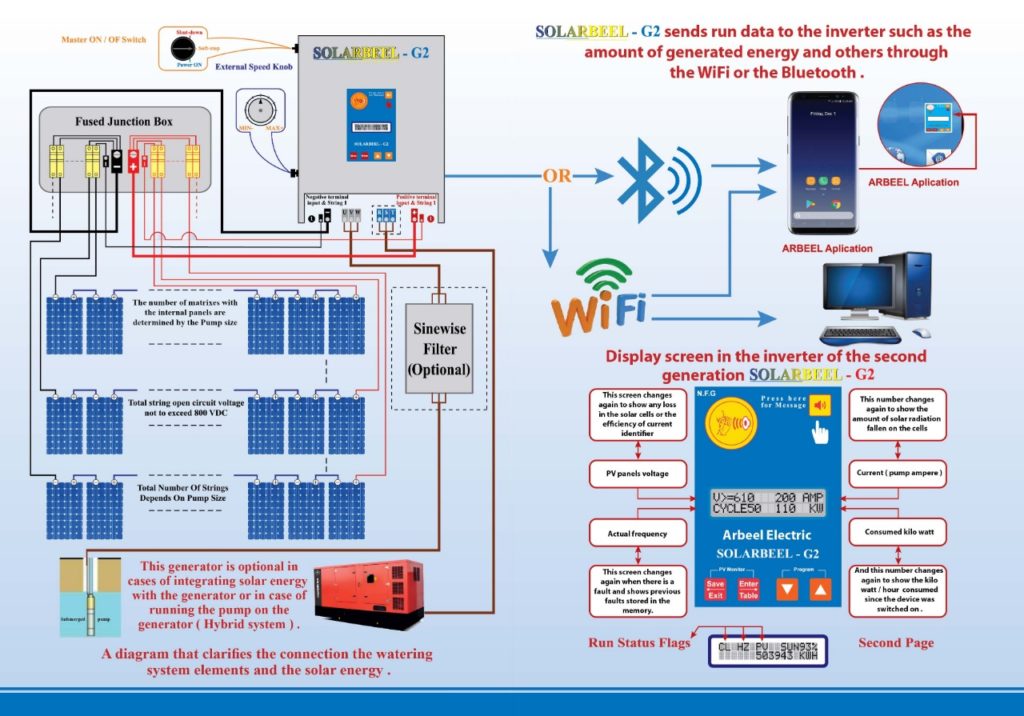 The characteristics of durability:
All the electronics parts used are from international companies sich as Vishay / Micro-Semi / Semikron / Microchip / Agilent / Stackpole / IXYS and other.
The device contains automatic Dc input blocking that disconnects the continuous feeding line in case of any cut-off, which is essential for high power pimps.
A device supplied with protection mechanism in case of reverse polarity when installed resulting from connection fault (additional).
It is designed especially to work under high temperatures as the thermal dissipater was enlarged to prolong the assumed age by reducing the temperature of the device.